Some things that have made me happy this week.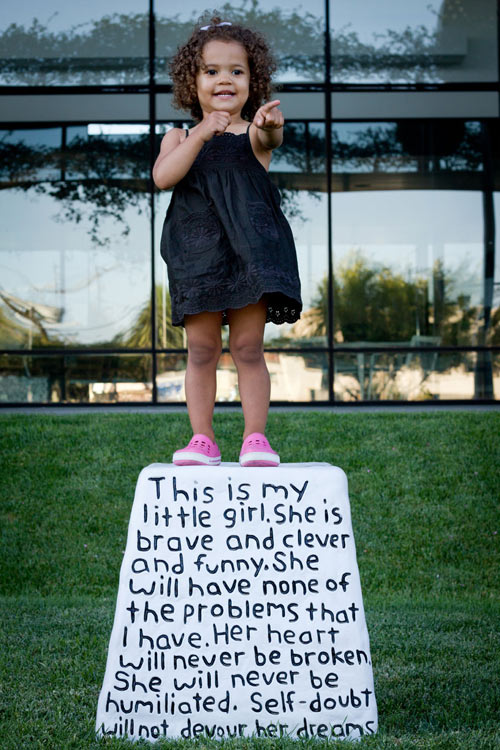 Miranda July, a Berkeley native whom most people will recognize as the writer/director and star of
The Future,
is the artist behind Eleven Heavy Things, an exhibition that has been installed in both New York City and Los Angeles. A series of interactive stone, fiberglass and steel sculptures (signs urge people to climb on and take pictures with them), the pieces are hilarious and sort of sad, which I think is Ms. July's forte.
Look at some of the sculptures here.
A website dedicated to displaying reader-submitted "pictures of pictures from the past in the present,"
Dear Photograph
caused me to sit on my couch and cry for fifteen minutes. Something about the line of a sidewalk staying exactly the same for fifty years, but the children who once rode their bikes there growing up, having their own children, and missing the father who was behind the camera that day...I just lost it. I don't know.
See for yourself.
A Lyric A Day was a 2010 design project by Luke Beard (a Chicago designer who calls himself Lukes Beard on this website...like his beard did the art...probably why he's a designer and not a comedian) that was never completed. Mr. Beard took one song lyric each day and "created art or took a picture inspired by that lyric." I love looking through the archives for songs that I know, and am crossing my fingers that his promise of making prints available comes true so I can plaster his Jack's Mannequin (and probably this Florence + The Machine too, so pretty) piece up in my bedroom.
Look for your favorite song here
.
I've spread out in a sunny corner of the living room in an attempt to finally get my recipes in some sort of sensical order, as they have been piled in a cardboard box under my printer for a whole year. See Ina's little smiling face up on the left holding a platter of Eton Mess? That's mah gurl.
Have a lovely Friday --- I'm gonna go lay out on the beach.
Life is hard hard hard.